IMPRESSED DUTY STAMPS OF THE BRITISH COLONAL EMPIRE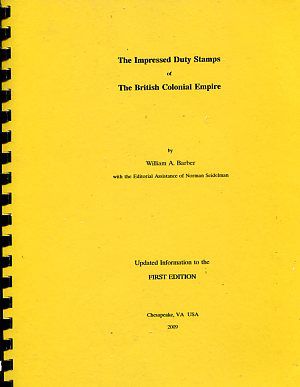 Price

£15.00

Stock Code

#648
IMPRESSED DUTY STAMPS OF THE BRITISH COLONAL EMPIRE
by William A Barber. Lists impressed revenue stamps (imprinted directly on documents), as opposed to the adhesive revenues (which are the subject of the Barefoot catalogue). This 2009 update is an update/appendix to the original 1998 Barber catalogue, but in some cases large sections of individual countries are totally re-written. So, if you have the original edition alone, this update is important as there are 139 pages of it!
139 pages, illus in black/white, spiral bound, 2009.
Currently out of stock but we get copies from time to time.
Click "Make Enquiry" and I will let you know when we get another copy in stock.


Click image for a larger view of this item...
---