---
Price

£0.00

Stock Code

#0624
Standard "Barefoot" guide to the revenue stamps of Bulgaria and Romania.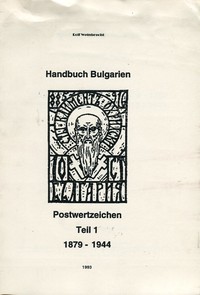 Price

£15.00

Stock Code

B.117
HANDBUCH BULGARIEN 1879-1944 (B.117)
by Rolf Weinbrecht. Detailed specialised handbook on the stamps of Bulgaria from classics up to 1944, including perf varieties and print figures. Published 1993, 124 pages, illus in black/white, in German (but easy to follow). Slight wear on front cover.