---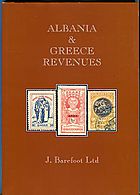 Price

£15.00

Stock Code

Barefoot Publication
The standard "Barefoot" guide to the revenues of the Greek area (including Albania).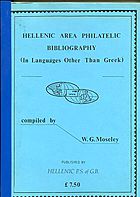 Much specialised information of Greek philately appeared over the years in specialised journals or small brochures. This bibliography allows the philatelic specialist to track down relevant information in mainly English language publications, up to publication in 1986.
Also included are 20+ specialised articles on Greece.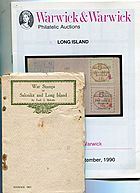 Price

£30.00

Stock Code

B.37
"War Stamps of Salonika and Long Island" by Fred J. Melville, the original book published 1916, 54 pages, plus Warwick & Warwick specialised auction catalogue of Long Island stamps of 1990, offering 126 stamp lots, mostly illustrated, together giving the most information on these curious typewriter-produced provisional stamps of WWI.
RUSSIAN MAIL - MOUNT ATHOS