CRNA GORA + MONTENEGRO HANDBUCH (B.175)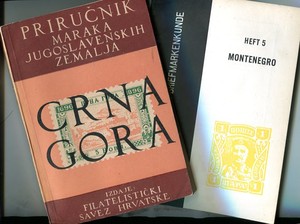 Price

£30.00

Stock Code

B.175
CRNA GORA + MONTENEGRO HANDBUCH (B.175)
Two books that jointly give everything a collector needs to know for a specialised collection of Montenegro : historical and postal background, stamp issue details, varieties, proofs, postmarks, back-of-book material. Both are printed in black/white, but some illustrations, and table speaking for themselves. "Crna Gora" is bilingual Serbo-Croat and German, 160 pages, copy #963 of edition of 1000, 1954. "Montenegro" is from the Neues Handbuch series #5, 52 pages, by the well-known Balkans expert Ing. Vladimir Fleck, published 1962.


Click image for a larger view of this item...
---