POLAND 1918 LOCALS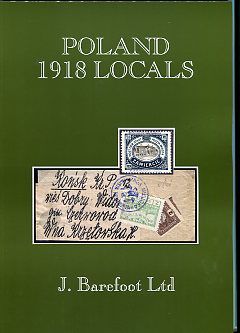 Price

£25.00

Stock Code

Barefoot Publication
POLAND 1918 LOCALS
New edition recently out! Handbook covering the private or local delivery Posts in Poland operating 1915-1919 during the period of disruption of civilian mails, following German and Austrian military conquest of former Russian Poland, and then the vacuum which followed their retreat in 1918 and the birth of the new Polish republic.
Local militia groups and patriotic town halls issued local stamps of their own designs, and in 1918 overprinted remaining stocks of German and Austrian stamps with Polish eagles or similar signs of the new Polish republic.
This specialist handbook catalogues all the stamps, varieties, proofs, postmarks and postal history, with colour illustrations, and valuations throughout.
This new 2nd edition is expanded by a dozen pages, with more emphasis on the postal history. Another new feature is that historical background is given for each town issuing local stamps, along with contemporary sepia photos of the afflicted towns at this period of Poland's painful history. Also two maps showing locations of the towns.
118 pages, full colour, card cover, priced and illustrated throughout.
ISBN 0 906845 71 8
Please add for postage when you order!


Click image for a larger view of this item...
---