---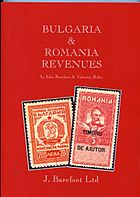 Price

£0.00

Stock Code

#0624
Standard guide to the revenue stamps of Bulgaria and Romania. Draft provisional edition for collectors' comments and additions, for eventual publication in final form.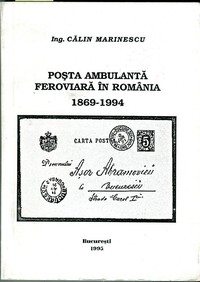 Price

£25.00

Stock Code

B.131
POSTA AMBULANTA FEROVIARA (B.131)
by Ing Calin Marinescu. Substantial guide to the railway t.p.o. cancels of Romania, all periods, in Romanian and printing quality not great, but tables of the numbered cancels and illustrations provide what is important for the English reader. 305 pages, in back/white, published Bucharest 1995.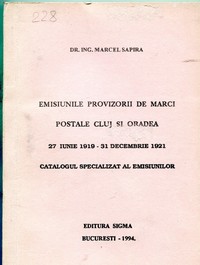 Price

£10.00

Stock Code

B.173
MARCI POSTALE CLUJ SI ORADEA (B.173)
Specialised catalogue with background, specialised information, printing figures, information on forgeries. In Romanian, rather primitive printing, but tables and 8 pages of black/white illustrations, 100 pages, 1994