THE AUSTRIAN POST OFFICES IN THE LEVANT (B.23)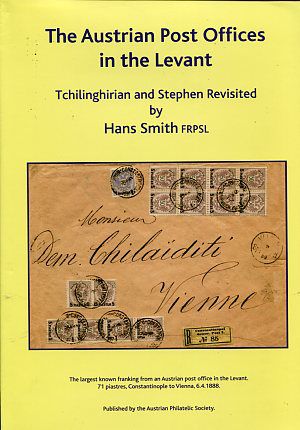 Price

£50.00

Stock Code

B.23
THE AUSTRIAN POST OFFICES IN THE LEVANT (B.23)
by Hans Smith FRPSL. Just out! The Tchilinghirian & Stephens classic has been reworked with more data and recent finds. "Levant" is used in a wide sense, it includes Albania, Greece, Romania, Bulgaria, Turkey, Egypt.Unlike T&S, this book does not include maritime, on-board (paquebot) cancels, nor are there valuations, but the book otherwise is in Tchilinghirian style and takes into account research and finds in the c50 years since Tchilinghirian published his "Austria Used Abroad". Fully illustrated in colour with many fine covers from the Hans Smith gold medal collection. 200 pages, in full colour, hardbound. Published 2013. ISBN 978-0-900118-09-8.


Click image for a larger view of this item...
---