ETHIOPIA 1867-1936 + ADDENDUM + AUCTION (B.10)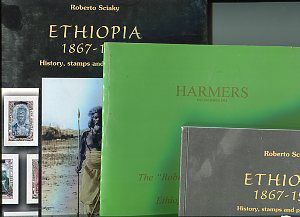 Price

£65.00

Stock Code

B.10
ETHIOPIA 1867-1936 + ADDENDUM + AUCTION (B.10)
by Robert Sciaky. Detailed handbook on the history, stamps and postal history of Ethiopia up to the 1936 Italian invasion, 221 pages, hardback, well illus, 1999, ISBN 88-85335-21-7. Plus the lengthy 2001 addendum to the work, 78 pages, card cover, 2001, ISBN 88-85335-61-6. Plus the 2006 Harmers auction catalogue of the Sciaky gold medal collection, 127 lots of mouth-watering covers on 71 pages, full colour. The three books together forming the most complete guide to the stamps and postal history of Ethiopia.


Click image for a larger view of this item...
---