CACHETS A DATE 1854-1876 (B.56)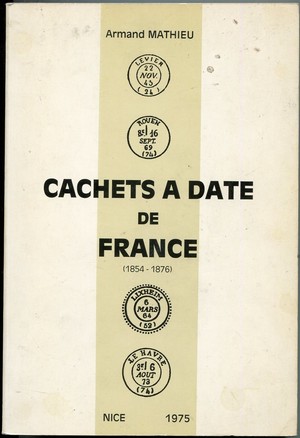 Price

£20.00

Stock Code

B.56
CACHETS A DATE 1854-1876
Catalogue listing of the circular date stamps of France, which replaced the numeral lozenge cancellers. Arranged by Department, then by town, then by cancel type, with values. By Armand Mathieu, published Nice 1975, 296 pages. The valuations are for examples of the cancel on loose stamps of the Napoleon and Ceres ranges up to 1876 (although relative rarity would also apply to Peace & Commerce issues too). The classification system of the book is also a useful short cut for a collector wanting to ascertain the full listing of post offices in any individual department of France.


Click image for a larger view of this item...
---