FRANCE - VARIETES (B.157)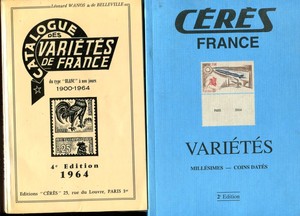 Price

£25.00

Stock Code

B.157
FRANCE - VARIETES (B.157)
two Ceres catalogues :" France Variétés" with both major and minor varieties plus millésimes and coins datés (223 pages, 2nd edition., 1994), AND "Variétés de France" an earlier but rather more detailed book with emphasis on smaller varieties (336 pages, 4th edition, 1964).
Altogether, thousands of varieties listed.


Click image for a larger view of this item...
---