FRENCH MILITARY CAMPAIGNS / POSTAL MARKINGS (B.186)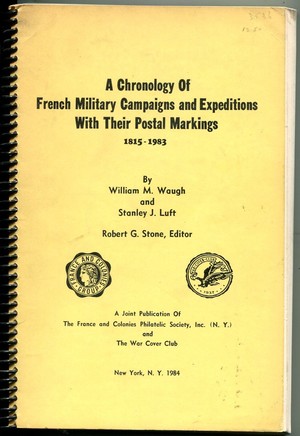 Price

£20.00

Stock Code

B.186
FRENCH MILITARY CAMPAIGNS / POSTAL MARKINGS (B.186)
Chronology of French military campaigns and expeditions overseas, 1815 to 1983, with brief summary of the events of each and postal arrangements, and examples of postmarks. Very useful overview of French military mail overseas with guides to further reading. By W.M.Waugh and S,J,Luft, editor Robert G Stone, 194 pages, black/white illus, ring-bound, 1984.


Click image for a larger view of this item...
---