FRENCH POSTAL HISTORY (B.148)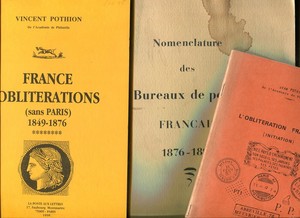 Price

£15.00

Stock Code

B.148
FRENCH POSTAL HISTORY (B.148)
Three books : "L'OBLITERATION FRANCAISE" by J. Pothion, introduction to French 19th century postmark, 60 pages, 1964; "FRANCE OBLITERATIONS (SANS PARIS) 1849-1876 guide by Vincent Pothion (with values) to postmarks and postal history of the classic stamp period, 70 pages, 1998; "NOMENCLATURE DES BUREAUX DE POSTE FRANCAIS 1876-1899" by Dennis Lavarack, list of postmarks from the Type Sage period, arranged by Department, 238 pages, 1967 (cover stain). Good combination for collector of classic French stamps with an interest in postmarks and postal history of the 19th century.


Click image for a larger view of this item...
---