AUFSTELLUNG DER LAGER.....POLEN 1939-45 (WWII POLAND CAMPS)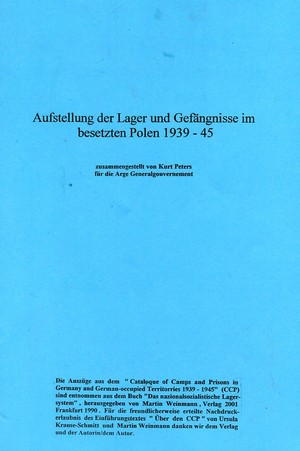 Price

£10.00

Stock Code

0389
AUFSTELLUNG DER LAGER.....POLEN 1939-45 (WWII POLAND CAMPS)
edited by Kurt Peters, based on relevant extracts from the massive work "Catalogue of Camps & Prisons in Germany and German-Occupied Territories" published by the International Tracing Service in 1949-52. 20-page introduction (in German) by Ursula Krause-Schmidt and Martin Weinmann explains the operation of the camps, then some 40 pages in English lists the many camps and prisons in WWII Generalgouvernement (former Poland). Useful for identifying mail and parcel card addressed to or from Labour camps, many of which were attached as "cheap labour" to German-acquired industries in the GG, such as famously related in the film "Schindler's List".
Published 1990. 60 pages, card cover.


Click image for a larger view of this item...
---