MICHEL GANZSACHEN 2014 (B.89)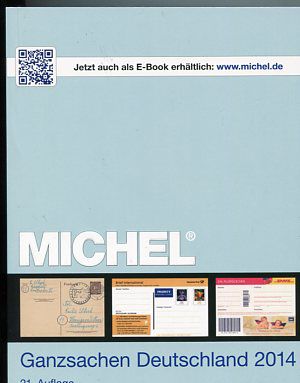 Price

£75.00

Stock Code

B.89
MICHEL GANZSACHEN 2014 (B.89)
Germany postal stationery catalogue, lists virtually everything in Germanic detail from German States through German Reich to modern (2013) envelopes and parcel labels. All items produced by the Post Office are listed (however, firms or organisations could also imprint their own stationery; this catalogue provides information on the basic stamp imprint only and does not list the "private|" productions of commercial firms or stamp clubs).
The popular commemorative cards of the III Reich are listed here in full (individually priced) as well as similar listing for postwar Germany.
Colonies, Plebiscites, Occupations are all included.
From the 1920s to modern times, long series of "touristic" views were officially prepared. This catalogue gives a listing and value for any basic example from the series, and also a set price where the cards (sometimes 100 or more) were published as a set. (If you need to know the full list of views and individual prices, these form a catalogue in its own right, the Michel Bildpostkarten catalogue).
About half the 4000 illustrations are in colour, and all items (18,000 of them) are priced. Published 2014, 862 pages. ISBN 978-3-95402-063-8


Click image for a larger view of this item...
---