AUCTION CATALOGUES (B.216)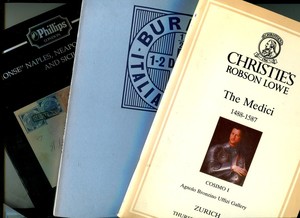 Price

£50.00

Stock Code

B.216
AUCTION CATALOGUES (B.216)
Accumulation of 50 auction catalogues of Italian States (some from c1960 including Burrus collection and 1959 Naples/Sicily, rest mainly period 1980-2000), many major sales, mostly Robson Lowe, couple Phillips including the Alphonse Sicily collection, includes thousands and thousands of lots, many illus, superb information background for a serious collector of Italian States. Weight 9 kilos, therefore only for delivery within mainland UK (not N.Ireland or islands) (or for possible delivery overseas, please enquire for the extra cost).


Click image for a larger view of this item...
---