DISTINGUISHING CHARACTERISTICS (B.297)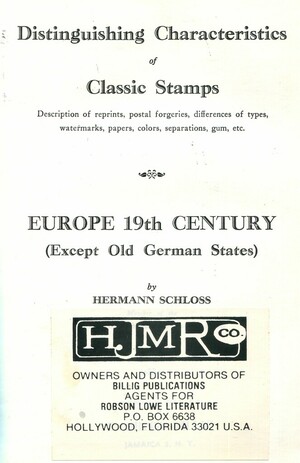 Price

£15.00

Stock Code

B.297
DISTINGUISHING CHARACTERISTICS (B.297)
"Distinguishing Characteristics of Classic Stamps - Europe 19th Century - Except German States". by Herman Schloss. The title says it all, key features that must be present on important classic stamps of Europe (except Germany) and which may be missing on known forgeries. An important book to use alongside other forgery guides - a stamp can only be considered genuine if it meets the criteria shown in this book..This is the Billig version (Billig #15), text and pictures sightly smaller than the original, but all the information is there. Hardback, 200 pages, Billig edition 1951, as new.


Click image for a larger view of this item...
---