SPECIMEN STAMPS (B.236)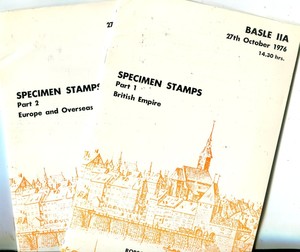 Price

£7.00

Stock Code

B.236
SPECIMEN STAMPS (B.236)
Auction catalogues of the Robson Lowe 1976 archive sale of a Post Office archive of Specimen stamps, of all countries, period 19th century to 1930s. Over 300 ots, in two catalogues, useful reference work. Also lengthy article by Marcus Samuel, serialised in Stamp Collecting, 1964, explaining the method of distribution of specimen stamps for UPU members.


Click image for a larger view of this item...
---