UNITED KINGDOM REVENUES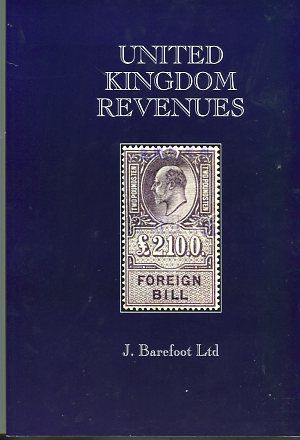 Price

£30.00

Stock Code

Barefoot Publication
UNITED KINGDOM REVENUES
Regular adhesive revenues of the United Kingdom are listed in full, illustrated in colour, and priced for fiscally used. The new title reflects the wide scope of coverage, listing the adhesive revenues of Great Britain and Northern Ireland, Ireland in the British period, and the Channel Islands. Many price changes since the previous edition.
This is a second printing of this 5th edition, due to high demand. 180 pages in full colour, card cover. Published 2010. ISBN 0 906845 69 6.
Apart from the general purpose revenues (used on deeds, conveyances etc), about 100 special purpose ("appropriated") revenue stamp categories exist, ranging from Additional Medicine Duty to Winchester Courts. An introductory explanation is given in each case to provide the background behind the tax.
From the social history point of view, revenue stamps provide a fascinating clue to how the taxman found ingenious ways to deprive the rich of their wealth at different stages of history. In the 18th century, cocoa, snuff, hats, dice, wigs, dogs and footmen were all taxed (with adhesive or impressed revenues, although fortunately for the last two "products", it was only the licence that had to bear the stamp, not the actual animal or person).
Now sold out. it will be reprinted but not for a while. If you would like to be advised when they come in, just press the "make enquiry" button and leave your details - we'll email you when the books arrive.


Click image for a larger view of this item...
---