---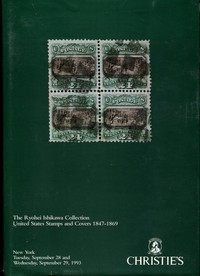 Price

£40.00

Stock Code

B.178
Ryohei Ishikawa Christies Auction 1993 (B.178)
"He assembled, through persistence, determination and a disregard of cost, the finest collection of classic issues of the United States" (Rudy Wunderlich). Said in a nutshell, the finest collection of classic U.S. stamps (from 1847, to 1869 pictorials, with multiples, inverted centres, magnificent covers), 746 lots illus in full colour and amply described with detailed provenance, hardbound, 1993.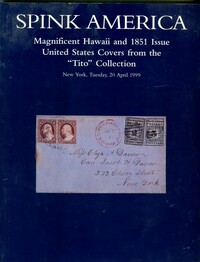 Price

£12.00

Stock Code

B.321
TITO AUCTION USA & HAWAII (B.321)
Spink auction April 1999 of the "Tito" collection of classic Hawaii on cover and 1851 USA postal history rarities of classics on mail to overseas destinations. 205 lots all illus in full colour, 130 pages, important reference catalogue for provenance of rarities.