---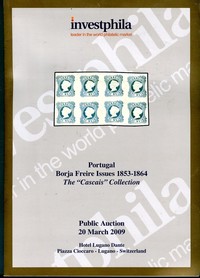 Price

£15.00

Stock Code

B.132
THE CASCAIS COLLECTION (B.132)
Investphila auction catalogue of the "Cascais" collection of 1853-1864 classics, with an especially strong section of the provisional town cancels on the early embossed stamps, also many important used blocks and other rarities. Virtually all stamps illustrated in full colour, making the catalogue an important record of one of the finest collection of Portugal classics. Sale of 20 March 2009, 118 pages, full colour.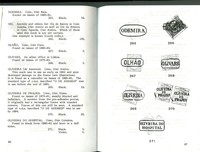 Price

£20.00

Stock Code

B.220
PROVISIONAL TOWN POSTMARKS 1879-1912 (B.220)
by Commander David L. Gordon. Often known as straight-line postmarks, but many were boxed, circled, etc (see illustration), these were introduced as a fore-runner to circular date stamps, and continued in temporary or emergency use to beyond the end of the century. The clear and attractive statement of the town name made them attractive to collectors of classic Portugal. About 500 cancels listed, with rarity guide, all illustrated. Portuguese Philatelic Society book, 160 pages, 1985, hardback, as new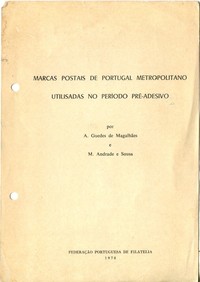 Price

£35.00

Stock Code

B.221
PORTUGAL PRESTAMP POSTMARKS (B.221)
"Marcas Postais de Portugal Metropolitano utilisadas no Periodo Pre-Adhesivo" by Magalhaes & Sousa, detailed listing of all prestamp postmarks (in Portuguese but easy to follow, all postmarks are illustrated), with dates and valuations, issued in looseleaf form (A5 format), several hundred un-numbered pages (apparently complete and in order, but unchecked), 1978.