Cinderella Stamps - For Sale
These are generally privately produced stamps, often for publicity or propaganda purposes, which do not fit into the specific categories of revenues, locals, telegraphs or parcel stamps. Many have attractive thermatic images.
---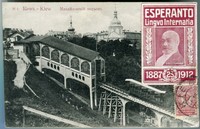 Price

£35.00

Stock Code

W.459
ESPERANTO (W.459)
large Esperanto label commemorating 25 years of the founding of the Esperanto language, together with Russia 4k perf Arms, on view side of viewcard (Kiev funicular railway), tied with KIEV cds, to Hrabec, Bohemia, 1912
Price

£50.00

Stock Code

L.171
ESPERANTO (L.171)
Collection of a dozen covers 1930s to 1950s, mainly Czech, couple Netherlands including the good 1948 Congress, plus some labels from 1909 onwards (two pages of illustrations - click "Learn More".