---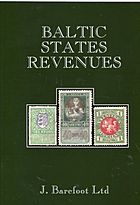 Price

£10.00

Stock Code

Barefoot publication
Just published July 2014, new 4th edition of our standard, illustrated and priced catalogue of the revenue stamps of Estonia, Latvia and Lithuania. Illustrated in full colour. 52 pages.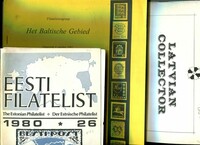 Price

£50.00

Stock Code

B.283
ARTICLES & SPECIALIST MAGAZINES (B.283)
Box containing large quantity of articles and specialist magazines, mainly on Estonia and Latvia, with "Estonia Philatelist", "Latvian Collector" and "Het Balltische Gebied" (in Dutch), also other articles from other sources and collector's notes, mainly from 1970s to 1990s period, masses and masses of specialised information not found in the main catalogues. Weight 7 kilos, in view of the weight, for mailing in UK only (if delivery wanted to Europe or Overseas, please contact us first to check extra cost).