---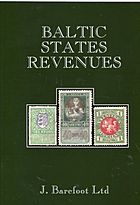 Price

£10.00

Stock Code

Barefoot publication
Just published July 2014, new 4th edition of our standard, illustrated and priced catalogue of the revenue stamps of Estonia, Latvia and Lithuania. Illustrated in full colour. 52 pages.
Price

£15.00

Stock Code

B.246
REVENUES - FOUR CATALOGUES (B.246)
from a deceased collector's library : "Baltic States Municipals" by Peter Thornton, 1990, "Latvia Revenues" by Apsit etc, 1990 (photocopy), "Lithuania Revenues" by Norton, 1961, photocopy), and "Baltic Revenues" (Barefoot 1998). Older literature, but the Apsit "Latvia" has some more detailed information than found elsewhere.