India & States
I'm often asked whether there is a revenue catalogue for Indian Princely States (since these Sates are not included in our Commonwealth catalogue). The only book that was produced was "The Court Fee and Revenue Stamps of the Princely States of India" by Koeppel & Manners, in three volumes including Appendix, published between 1984 and 1989. Excellent hardbound books, with historical background on the States as well as the stamp listing (illus in black/white). Sadly these books were snapped up on publication and has remained out of print since. Regrettably Adolph Koeppel is no longer alive - so at the moment it's a question of seeking a 2nd-hand copy on the internet. We have quite a lot of information about these stamps so maybe we can do a new edition in a few years - but there are some more advanced projects to complete first over the next couple of years. Still, keep checking.
---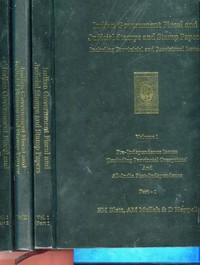 Price

£50.00

Stock Code

B.7
INDIAN GOVERNMENT FISCAL...STAMPS (B.7)
by S.M. Blatt, A.M. Mollah and D. Heppell. Catalogues all the revenue stamps of India proper (no Princely States), from Agreement to Special Adhesive, Stamped Paper (Court Fees, Hundis etc), and issues of those of the ex-Princely states which continued to issue their own stamps in post-independence India. Produced in three volumes (labelled Vol 1 Part 1, Vol 1 part 2, Vol 2), each hard-bound, also the recent small "supplement 2"). Black/white, listings and illustrated but no prices, published 2008, total 750+ pages.