Australia - Victoria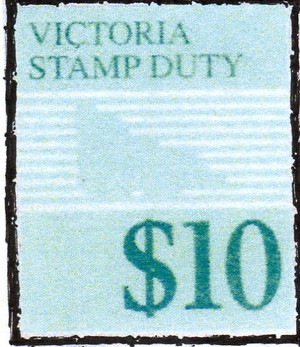 The decimal Stamp Duty issues of the State of Victoria appear straightforward, and a basic listing has been given by Elsmore online, and in previous editions of the Barefoot Commonwealth Revenues catalogue. However, David Casey has shown that this issue is complex (thanks, David, for showing us your interesting research!). There are different papers, perforations and rouletting, different font styles for the figures of value, and even the map of Victoria changes - Port Philip Bay waxes and wanes like the Aral Sea. This is a "work in progress" provisional listing for what will be included in our forthcoming Commonwealth Revenues catalogue. It is only a private working document for use between J.Barefoot and other collectors.
To view IN FULL this listing (which can then be printed out for personal use only, not for publication) please CLICK HERE
Some of this material is only recently appearing from legal archives and therefore pricing (in UK £) is tentative. If you can help add new stamps to the listing, or fill in more ABCD listings for perforation and paper types, your contribution would be welcomed. Email us at JBarefootL@AOL.com. It is a new challenging field for collectors of modern Australia revenues.