---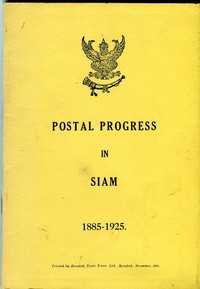 Price

£3.00

Stock Code

B.30
POSTAL PROGRESS IN THAILAND 1885-1925
Reprint (c1985) of the booklet originally published 1925, describing development of postal communications in Thailand 1885-1925, statistics on mail carried, development of routes and services, and good chapter on the Telegraph service. 36 pages.
Price

£25.00

Stock Code

B.136
THAI OCCUPATION MALAYA WWII (B.136)
Dynasty Auctions catalogue "Majestic Siam : WWII : Thai Occupation of the 4 Northern States of Malaya), the Jay Sirirattumrong collection, stated to be the finest gold medal collection formed of this subject and an important reference book, 300 specialised stamps and covers all illus in full cover and systematic background explanations, 152 pages, 2013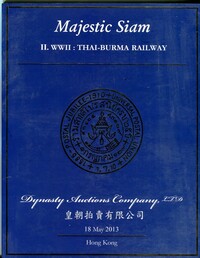 Price

£10.00

Stock Code

B.315
WWII THAI-BURMA RAILWAY (B.315)
The infamous "railway of death" had auxilliary post ofices along its length, and provides postal history in the form of PoW cards. Howere, all are rare, Allied prisoners were usually allowed only to send about one letter per year, and the death toll was very high. Dynasty auction 2013 in Hong Kong offered the major Sirirattumrong collection, 116 lots all described in detail and illus in full colour. Important reference collection cataogue.