---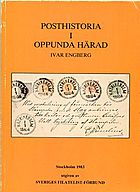 Price

£5.00

Stock Code

B.93
POSTHISTORIA I OPPUNDA HARAD (B.93)
by Ivar Engberg. Study of the development of postal services in the province of Oppunda Harad, with early postal documents and prestamp markings, introduction of railway routes in the 19th century, middle period cancels, branch offices, special event cancels. A fine example of a postal history study of a small region.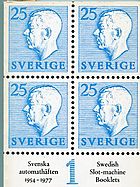 Price

£10.00

Stock Code

B.92
SWEDISH SLOT-MACHINE BOOKLETS (B.92)
by Lennart Lagerström. Booklets have always been an important aspect of Swedish philately. The technique of booklet production is more complex than just printing stamps in sheets; the study of Swedish booklets therefore offers technical challenges which are more demanding than collecting just the basic stamps. This is a detailed technical guide to the booklets of the 1954-77 period, largely the definitives, but also taking a couple of commemorative issues as in-depth studies.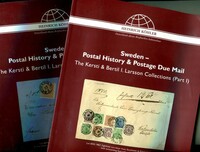 Price

£15.00

Stock Code

B.282
POSTAGE DUE MAIL (B.282)
The Kersti & Bertil I Larsson collections of Postage Due Mail and of General early postal history, parts I and II Kohler auction catalogue, a superb collection, hundreds of lots, all in full colour, 2017, 124 pages and 132 pages, superb record of important postal history