Morocco (Independent)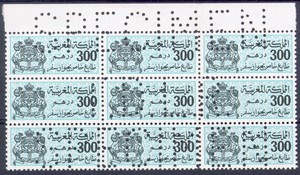 This is very much a "work in progress" provisional listing of the revenue stamps of independent Morocco. New discoveries are gradually being made, as modern stamps and documents slowly reach the collector market. If any reader has access to official lists of current stamps on sale in government offices, or previously issued stamps, please get in touch with us. This internet listing is only a private working document for use between J.Barefoot and other collectors.
To view IN FULL this listing (which can then be printed out for personal use only, not for publication) please CLICK HERE
If you have new finds to add to the listing, or can supply better colour scans to replace any old black/white ones (ideally, 300 dpi, same size, with stamp on a black background to show the perforations, like the ones in the listing), please get in touch with us by email at JBarefootL@AOL.com
About 20 years ago we purchased some of the De La Rue archives, including those for Morocco in the 1980s. We now offer a number of blocks from this archive; these all have the De La Rue "SPECIMEN" perfin cancel, and a few are also dated (useful for establishing period of preparation and issue). To view these, please see the section "Revenue Stamps - For Sale / France & Colonies".