Madagascar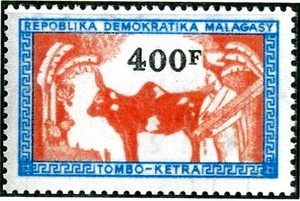 This is a "work in progress" (revised February 2017) provisional listing of the revenue stamps of Madagascar, compiled by Dr. Wilfred Bauer, Robert Conley, Oscar van der Vliet and John Barefoot. It is only a private working document for use between J.Barefoot and other collectors.
To view IN FULL this listing (which can then be printed out for personal use only, not for publication) please CLICK HERE
Relatively little is known about the post-independence issues of the Malagasy Republic. Inflation was a feature of life in the 1990s and more face values may exist than those listed here. If you have new finds to add to the listing, please get in touch with us by email at JBarefootL@AOL.com. Much of the material is quite scarce and better illustrations are needed in some cases. If you can help improve some of the old black/white illustrations, your contribution would be welcomed. Also, for a few issues, we have no illustration at all ("X" marks the spot). Illustrations are best supplied as a .jpg colour scan, on a small black background to show the perforations and will be very gratefully welcomed.