---
Price

£0.00

Stock Code

Barefoot publication
Planned standard "Barefoot" catalogues of the revenue stamps of Bulgaria and Romania.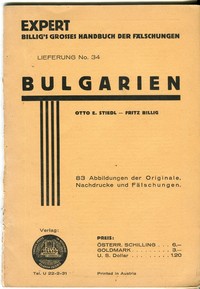 Price

£10.00

Stock Code

B.248
FORGERY HANDBOOK (B.248)
Published in 1931, Billig's handbook remains the classic guide to identifying forgeries of the expensive classics and surcharges where time and good information proves a valuable investment. 83 items all illustrated in black/white, with originals, and forgeries, side by side. Text in German but all key points are numbered in the photos.