Switzerland Tourism Tax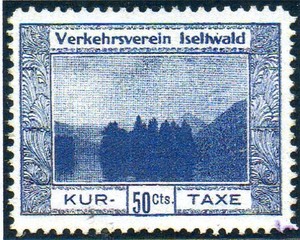 This is a "work in progress" listing of Tourism Tax stamps Switzerland by Clayton Wallace (2nd edition October 2016). Tourism tax stamps were an obligatory municipal tax or tourism board tax applied to the hotel bills of visitors, and are the least known in the field of Swiss revenue stamps. We are honoured to be able to host Clayton's extensive listing and hope this will help revenue collectors worldwide.
To view IN FULL this listing (which can then be printed out for personal use only, not for publication) please CLICK HERE
If you have new finds to add to the listing, please get in touch with us by email at JBarefootL@AOL.com. Much of the material is quite scarce (we seldom see these offered) and therefore pricing (in US dollars) is tentative. If you can help add new finds, your contribution would be welcomed. Illustrations are best as a .jpg colour scan, at 300 dpi, on a small black background to show the perforations.