---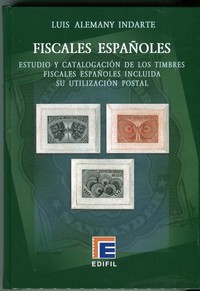 Price

£70.00

Stock Code

B.8
FISCALES ESPANOLES (B.8)
by Luis Alemany Indarte. Catalogue of the revenue stamps of mainland Spain, priced, and illustrated in full colour. From classics to 2002, includes listings and values for mint and used, imperfs and proofs, the various special types of revenue e.g. consular, medicine, revenues with commercial advertising, regional issues (but not municipals or the colonies). Hardbound, 470 pages, published 2008. Currently sold out but will be re-stocked.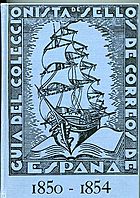 Price

£125.00

Stock Code

B.111
GUIA DEL COLECCIONISTA - TORT (B.111)
Three volume boxed set, the definitive work on 19th century stamps of Spain. Volume I covers stamps of 1850-1854, Volume II 1855-1869, Volume III 1870-1900. Background, varieties, plating, proofs, postmarks are all covered. Many illustrations in spot colour. As new.
Good basic guide to the postmarks of Spain, with emphasis on older period but includes up to `960. The main types are categorised and explained, including listings of the two series of numeral cancels.
By Theo van Dam, published as Billig Handbook.