---
Albania - Information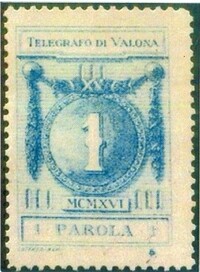 Albania operated a telegraph service through its postal facilities, and evidence of this is seen in the inscriptions POST & TELEGRAPH" on some early postmarks. Apparently, regular stamps were used to pay telegraph charges.
.A special case came from the early days of Albania's troubled birth. From 1914 to 1920 the Italians occupied first Valona, then larger areas of southern Albania. They built a military telegraph service connecting Valona and Himara (Chimara). Special telegraph stamps (rare) were made available to pay the telegraph charges. Our planned 2nd edition TELEGRAPH STAMPS catalogue will include a new page on these. To view in advance this listing for Albania (which can then be printed out for personal use only, not for publication) please CLICK HERE
If you have new finds to add to the listing, please get in touch with us by email at JBarefootL@AOL.com. Much of the material is quite scarce (we seldom see these offered) and therefore pricing (in UK £) is tentative.