Philatelic Literature - For Sale
These are mainly new or recent philatelic catalogues or handbooks. Some we have published ourselves, others are the books I use for my own reference library. I feel they are the best books currently available on each particular subject, and recommended by personal experience or research. A few are older or 2nd-hand books which are still the only main work on the subject (these will be apparent from their date of publication).

The books are mainly in English (unless otherwise stated, or unless the titles is in a different language). Click on any individual country at the left for a listing. You can pay by credit card, and make delivery to any country worldwide. Prices for books are postage extra.
See the POSTAGE box In the Home Page Menu for costs.
---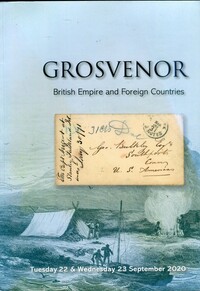 Price

£20.00

Stock Code

B.337
FALKLANDS, GROSVENOR 2020 (B.337)
Major auction sale (Grosvenor 23 September 2020) of the Falklands and South Atlantic collections of Peter Cottis and of Ralph Riddell-Carre, c800 lots of stamps (some) and postal history (most), mainly illustrated in colour, an invaluable record of two major collections, essential documentation for the postal history student of this area.(232 pages)