IndoChina (French)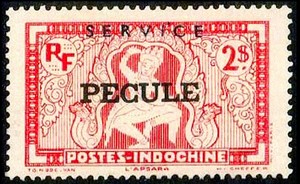 This is a "work in progress" provisional listing (updated May 2017) of revenue stamps of IndoChina (French colonial period), and including improved scans courtesy of Bernard Dormy. It is only a private working document for use between J.Barefoot and other collectors, and not a publication.
To view IN FULL this listing (which can then be printed out for personal use only, not for publication) please CLICK HERE
If you have new finds to add to the listing, please get in touch with us by email at JBarefootL@AOL.com. Much of the material is quite scarce (we seldom see these offered) and therefore pricing (in UK £) is tentative. If you can help improve some of the old black/white illustrations, your contribution would be welcomed. Illustrations are best as a .jpg colour scan, on a small black background to show the perforations.
Municipal issues for French period IndoChina, and revenue issues for post-independence Cambodia, Laos and Vietnam can all be found in our publication "South East Asia Revenues". For information on the book (and to place an order) click on "Philatelic Literature - For Sale" at the left.