---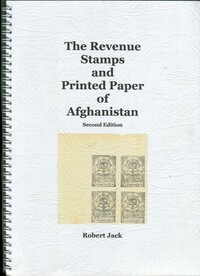 Price

£37.00

Stock Code

B.324
REVENUE STAMPS OF AFGHANISTAN 2nd ed (B.324)
by Robert Jack. New 2nd edition just published (Nov 2019). An obscure country revisited in more detail, with new finds, examples of revenues shown on document thus explaining use, and prices (tentative, and probably rather on the low side for this very elusive material). Since the previous edition, volume of the catalogue has increased by one third, thanks to more on use, more specialist information, and about 80 new items. 130 pages, in colour, ring bound.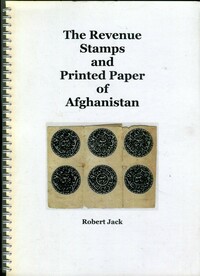 Price

£20.00

Stock Code

B.325
REVENUE STAMPS OF AFGHANISTAN 1st ed (B.325)
by Robert Jack. Want a basic version of this book? We have one copy left of the 1st edition, lists all the more usually encountered stamps but does not include some specialist material or recently encountered elusive items. Stamps are catalogued but not priced. 104 pages, A4 format, in colour, ringbound.