---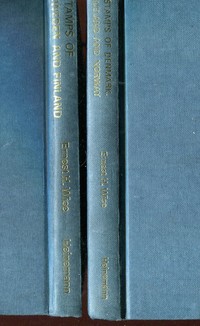 Price

£25.00

Stock Code

B.65
"Stamps of Denmark, Iceland and Norway" and "Stamps of Sweden and Finland", two-volume set by Ernest H. Wise. Background and detailed explanation of stamps from Classics to around 1900 for each of the countries, not quite as detailed as a specialised catalogue but interestingly written and with explanations of how well-known varieties or errors came about. Two matching hardbacks, 168 plus 213 pages, illus in black/white, 1975.
SCANDINAVIA REVENUES
We are working on a new edition, to be published hopefully late 2016.
INDIVIDUAL SCANDINAVIA COUNTRIES
These are listed under the individual headings of Denmark, Finland, etc.