---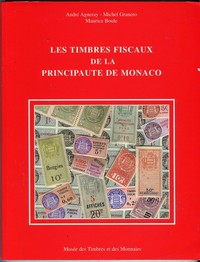 Price

£25.00

Stock Code

B.13
LES TIMBRES FISCAUX...DE MONACO (B.13)
Full-colour specialised catalogue of the revenue stamps of Monaco, every stamp in the set is illustrated in full colour, with quantities printed, and price guide as a separate folder. Also background to the fiscal laws, specialist information on proofs and essays, and use on document. In French, well illustrated and with tables. Published by the Stamp Museum, Monaco, 1998, 110 pages, full colour.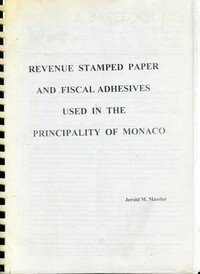 Price

£20.00

Stock Code

B.141
REVENUE STAMPED PAPER AND FISCAL ADHESIVES ....OF MONACO (B.141)
by Jerold M. Massler. More than a catalogue, this is a specialised handbook covering all aspects of revenues connected with Monaco (stamped paper from 1655 French period, 1814 Sardinian period, through to modern meter marks, issued revenue stamps of Monaco proper from 1887 to recent, proofs, varieties, municipals, large section on cancels, and supplement on Laws and rates.