BOHEMIA & MORAVIA - A COLLECTOR'S NOTEBOOK (B.63)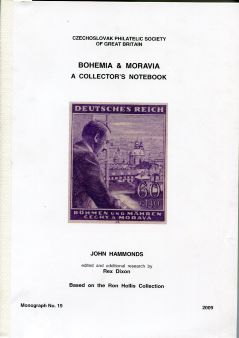 Price

£9.00

Stock Code

B.63
BOHEMIA & MORAVIA - A COLLECTOR'S NOTEBOOK (B.63)
Handbook covering a selection of aspects of the postal history of Bohemia & Moravia in WWII under German occupation. The chapters on "Postal Rates" and on "Post Office listing" spring to mind as being alone worth the cost of the book, but other sections include First days of German occupation, Field Post, SS Post, Dienstpost, Railway TPOs, Autoposta (motor coach mobile post office), Theresienstadt Ghetto post, KLV (children's evacuation camps), and Propaganda and V for Victory cachets.
Written by John Hammonds, edited by Rex Dixon, based on the Ron Hollis collection. CzechoslovaK Philatelic Society Monograph #19, 76 A4 pages, published 2009.
ISBN 978 0 9536555 6 4
Please add for postage when you order!


Click image for a larger view of this item...
---