COURT CIRCULARS (Ireland Petty Sessions) (B.177)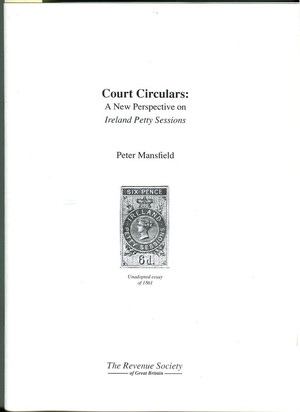 Price

£5.00

Stock Code

B.177
COURT CIRCULARS (Ireland Petty Sessions) (B.177)
Both in the British period, and after independence, Irish Petty Sessions were the lowest level of court hearings, dealing with local misdemeanours and petty theft, issuing licences to sell tobacco and liquor, and above all the registration of dog licences - for which, almost from the start, special designs were issued featuring the emblematic Irish wolfhound. This booklet discusses the issue and classification of the stamps (both the general Petty Sessions issues, and the Dog stamps). Peter Mansfield writes charmingly about the modus operandi and the complexities of the forms, and the strict rues for their appication. 40 pahes, illus in colour, pubished by the Revenue Society of Great Britain, 2003.


Click image for a larger view of this item...
---