RUSSIA ZEMSTVOS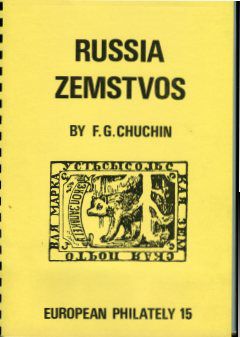 Price

£9.00

Stock Code

Barefoot Publication
RUSSIA ZEMSTVOS
Chuchin is the standard catalogue listing Russian Zemstvos local post stamps; this Barefoot edition provides photos of each stamp issue in the right place in the text.
The original 1925 catalogue stood the test of time as a thorough listing and is used as a standard by collectors for the numbering system. The 1925 edition had very limited pictures, placed away from the text. We have therefore re-worked the entire book, adding hundreds of illustrations, all inserted in the text at the right places, so that locating and identifying Zemstvo stamps has become easy for the first time.
This has been one of our best-selling books, and demand for Zemstvos has increased steadily in Russia, also they are sought by thematic collectors (many of the Zemstvo stamps have heraldic designs featuring animals, birds, insects etc).
Order direct from us on the website and you will also receive (free) David Rowell's 2004 pricing guide essay on Zemstvos and method of converting Chuchin's prices to modern (well, 2004) price levels.
92 pages, A4 format, text in 3 columns, illustrated in black & white throughout, spiral bound, published 1988.
ISBN 0 908845 28 9
Please add for postage when you order!


Click image for a larger view of this item...
---