AUSTRIA POSTMARKS 1850-1869 (B.9)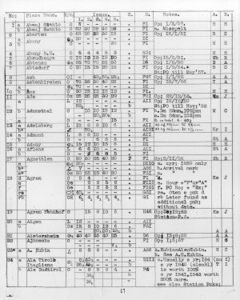 Price

£35.00

Stock Code

B.9
AUSTRIA POSTMARKS 1850-1869 (B.9)
Based on the original work by E. Muller, this is a copy of the English translation typescript by Dr. Patton, prepared in the 1960s and never published. As you won't find this item in any other bookstore, we've illustrated a sample page of the postmark listings to give a feel of the layout. The complete work is translated into English, being a full list of postmarks of all parts of the Empire (including Levant), giving Muller numbers and points value, location of the town then and now, and with illustrations where Muller provided them. Being typewritten, the information is not quite the same as a printed book, but everything is still neatly provided in table form and is easy to follow. 341 pages, loose-leaf pages (in loose-leaf binder if supplied in UK, just the pages if supplied elsewhere, as bulky binders are difficult to airmail).
Please add for postage when you order!


Click image for a larger view of this item...
---