EARLY AUSTRIAN P.O.S in the OTTOMAN EMPIRE (CD-A2)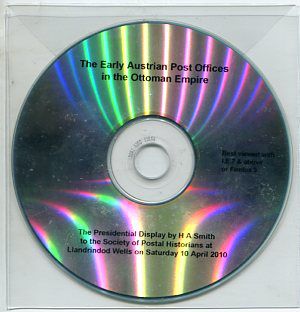 Price

£8.00

Stock Code

CD A-2
EARLY AUSTRIAN P.O.S in the OTTOMAN EMPIRE (CD-A2)
The H A Smith Presidential display, the complete display frame by frame and page by page, easy to navigate with high resolution pictures. Shown here are the early stampless covers and covers with Austrian Levant or DDSG stamps in the first offices that Austria opened in the Levant.
Published by the Austrian Philatelic Society in CD format, 2010


Click image for a larger view of this item...
---