BENELUX REVENUES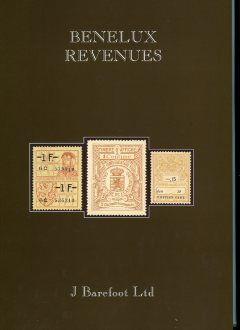 Price

£15.00

Stock Code

Barefoot publication
BENELUX REVENUES
The standard catalogue listing the revenue stamps of Belgium, Belgian Colonies, Luxembourg, Netherlands & Colonies, including WWII German and Japanese occupations of WWII, and some postwar Indonesia.
This new edition roughly doubles the quantity of stamps listed compared with the 1st edition of 1987, and there is also an Appendix listing the Telegraph stamps of Belgium, Luxembourg and Netherlands, and the Railway Parcel stamps of Netherlands.
Illustrated in black & white throughout, all stamps with valuations.
122 pages, usual Barefoot A4 format in 3 columns, 2nd edition 2007.
ISBN 0 906845 66 1
Please add for postage when you order!


Click image for a larger view of this item...
---