RAILWAY CANCELS OF BELGIUM (B.202)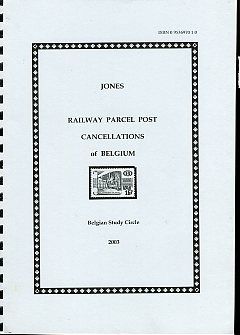 Price

£20.00

Stock Code

B.202
RAILWAY CANCELS OF BELGIUM
by T. Jones. Belgium had both private and national railway lines, carrying railway letters, packets, parcels, and telegraphs alongside. The Railway stamps and Railway Parcel stamps of Belgium carry a wide range of straightline, circular, boxed, hexagonal and octagonal datestamps. Some of the railway lines extended into France and the Netherlands; Belgian railway stamps used on these parts of the line received appropriate cancels and thereby became "used abroad". This detailed handbook explains the history and gives a full listing of the cancels, along with basic guide to rarity.
Published 2003, 211 pages in English, with illustrations, A4 format, spiral bound, ISBN 0 9536970 1 0.


Click image for a larger view of this item...
---