CERESA - RSFSR 1920-23 (B.251)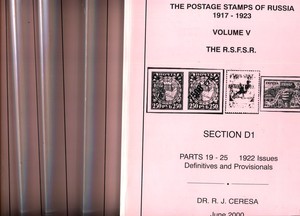 Price

£250.00

Stock Code

B.251
CERESA - RSFSR 1922-23 (B.251)
Dr Ceresa's massive handbooks list everything and more, with background, specialised stamp information, postal use and covers, important sections on forgeries. This section if ten volumes (Ceresa describes then as 40 "parts", total 2200++ pages, illus black/white) covering the Russian Soviet Republic period 1922-1923. Total weight 7 kilos, unusually heavy; the price is normal postage extra in the UK as one parcel (parcel by Fedex in this case), but if posted to Europe or elsewhere Overseas, will need to travel as three parcels and will need a further postage supplement of £50 in Europe, or £86 Overseas, on top of the standard postage calculation provided automatically by the website. We're sorry, this lot is unusually heavy! Alternative mailing by private carrier may be cheaper, please contact us, it will depend where you live. The Canadian Post Office also operates a special weight restriction of 2kg per packet, please contact us before ordering this book if you live in Canada.


Click image for a larger view of this item...
---