RUSSIA REVENUES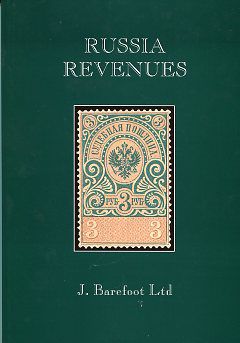 Price

£15.00

Stock Code

Barefoot Publication
RUSSIA REVENUES
Standard "Barefoot" catalogue listing the revenue stamps of Russia and associated territories, from Imperial period to 1980s.
The revenues of the Imperial period are considered among the most beautiful and finely designed revenue stamps of any country. The catalogue then continues with issues of the civil war, Soviet issues, border territories from Armenia and Azerbaijan through to Ukraine and Uzbekistan.
Illustrated (black and white, plus two colour plates) and priced throughout. Index in English and in Russian.
108 pages, card cover, published 2004.
ISBN 0 906845 64 5
Now out of print, but there will be a new edition soon!


Click image for a larger view of this item...
---