VADE MECUM by SERRANE (B.298)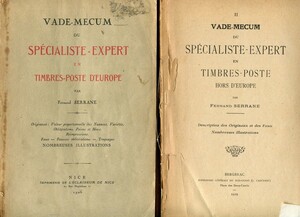 Price

£45.00

Stock Code

B.298
VADE MECUM by SERRANE (B.298)
Forgery and reprint guide to stamps of all countries, Volume I is Europe, Volume II is Overseas, in French, illustrations are mainly line drawings of key features but enough to be useful, perspective is from a French angle and gives more infomration on France & Colonies and other Latin countries than is normally found in other later forgery guides. Volume I 480 pages, published 1926, Volume II 315 pages, published 1929. Typical of French books of the 1920s, economy paper and inadequate binding, Vol II has split and missing front cover, but the pages are still complete. Masses of information.


Click image for a larger view of this item...
---