BRITISH COMMONWEALTH REVENUES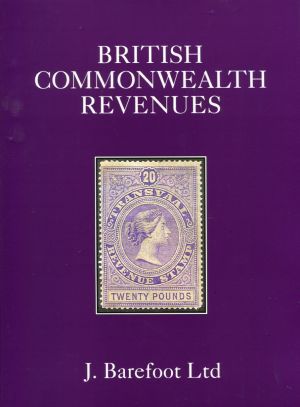 Price

£75.00

Stock Code

Barefoot publication
BRITISH COMMONWEALTH REVENUES
This is the standard illustrated priced revenue catalogue for the British Commonwealth (all countries except the UK itself, which is a separate volume). Editions come out roughly every six years. Our new 10th edition is now available. There has been much work involved, especially for India and Pakistan where extensive new material has been reported, Palestine greatly reworked, hundreds of small details added to the South Africa group, countless additions made through the whole range of countries from Abu Dhabi to Zululand, and the book has now grown from 410 to 502 pages. In view of the increased size, it may be the last edition with all countries in one volume. The retail price is £75. The previous edition sold out quickly - don't miss this new one! Now sold out of the first printing, but we are printing some more. Ready around early October. Click "make enquiry" and leave your details and we will email you as soon as the new printing is ready.


Click image for a larger view of this item...
---