GREAT BRITAIN PLAYING CARD TAX WRAPPERS (B.3)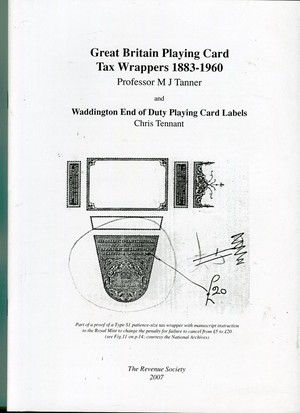 Price

£5.00

Stock Code

B.3
GREAT BRITAIN PLAYING CARD TAX WRAPPERS (B.3)
by Professor M. J. Tanner. Octopus-like, these wrappers were designed to enclose a pack of cards with four "arms" which met behind and sealed the pack, and bore a stated tax amount or "duty paid" inscription. Often the name of the manufacturer or distributor appeared in the design (appropriated wrappers). The length of time these were in use, fine printing by Perkins Bacon and Somerset House, and the quirks and frailties of the user public (novelty packs etc) make this a fascinating subject to collect and a reflection on society. Published 2007, 40 pages, black/white plus 8 colour plates.


Click image for a larger view of this item...
---