TAXATION OF THE PRINTED WORD (B.5)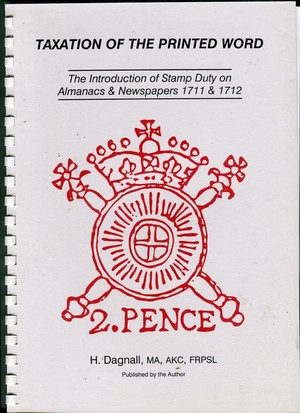 Price

£5.00

Stock Code

B.5
TAXATION OF THE PRINTED WORD (B.5)
by H. Dagnall. A review of the introduction of Stamp Duty on Almanacs and Newspapers in 1711-12, in an attempt to raise yet another tax for war, and to control the excesses of Grub Street. The background, the legislation, the designs for the imprinted stamps, detail of the first issue, and much lively commentaries by those who opposed the encroachment of freedom caused by these stamps. 55 pages, spiral bound, published by the author, limited edition.


Click image for a larger view of this item...
---